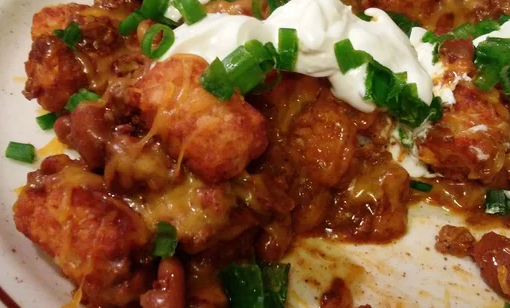 Ingredients
---
Preparation method
Preheat an oven to 450 degrees F (230 degrees C).

Heat a large skillet over medium-high heat and stir in the ground beef. Cook and stir until the beef is crumbly, evenly browned, and no longer pink. Drain and discard any excess grease. Stir in the chili and mix thoroughly. Spread the chili mixture into a 9x13-inch baking pan then top with a single layer of the frozen potato rounds.

Bake in the preheated oven until heated through and potato rounds are crisp, 18 to 22 minutes. Meanwhile, place the bacon in a large, deep skillet, and cook over medium-high heat, turning occasionally, until evenly browned, about 10 minutes. Drain the bacon slices on a paper towel-lined plate. Crumble bacon and set aside.

Melt the processed cheese food in a microwave-safe glass or ceramic bowl in 30-second intervals, stirring after each melting, for 1 to 3 minutes (depending on your microwave). Pour melted cheese food over the potato rounds and top with bacon and chopped green onions.
thanks
by
lora