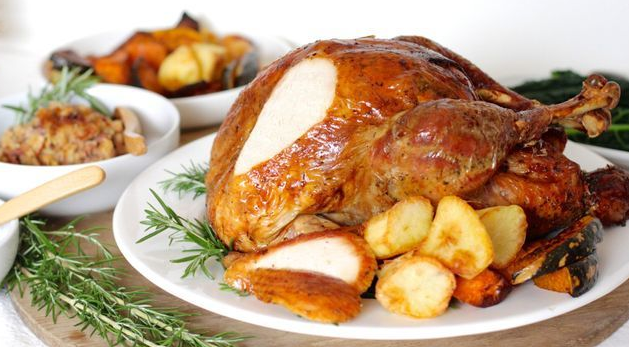 Ingredients
2 tbs sea salt

1 tbs dried herbs

1 whole turkey

1/2 lemon

1L Massel* Chicken Style Liquid Stock
FOR GRAVY
1/3 cup plain flour

4 cups water
---
Method
Begin 1-2 days ahead. Combine salt and herbs in a small bowl. Remove any excess fat from inside turkey cavity and place in a large non-reactive dish. Rub salt mixture all over turkey skin and inside cavity. Leave uncovered and place in the fridge for 24-48 hours to allow to brine.

Preheat oven 250C (230C fan-forced). Remove turkey from fridge. Drain away any fluid from brine, but do not rinse the turkey. Prepare your stuffing, and then stuff cavity. Seal with lemon half. Draw legs together and truss with kitchen string. Place turkey on a rack inside a large baking dish and pour in stock.

Place in the oven and immediately drop temperature to 190C (170C fan-forced). Cook for 2.5 to 5.5 hour** basting every 45 minutes with the juices in the bottom of the pan. If skin is getting too brown, cover breast with a piece of aluminium foil. Roast for approximately 30-35 minutes per kilo. I used a small size 44 bird (4.4kg) and the cooking time was just under 2.5 hours. To test if it is cooked, use a meat thermometer inserted deep into the thigh and breast. It will be cooked when it has reached 74C. Alternatively, press a sharp knife into the meat between the thigh and breast. The juices should run clear.

Once cooked, remove turkey to a large plate and cover to rest. Spoon off any fat from the roasting pan, then place on the stove over high heat. Add flour and stir to combine with drippings. Allow to cook for 2-3 minutes. Gradually add water, half a cup at a time, stirring well. Simmer to thicken. Strain through a sieve to remove any lumps.

Remove stuffing from turkey and place in a serving dish. You can return it to the oven to crisp up if you prefer.

Carve turkey and serve with roasted vegetables, steamed greens, cranberry sauce, stuffing and gravy.
thanks
by
Greer