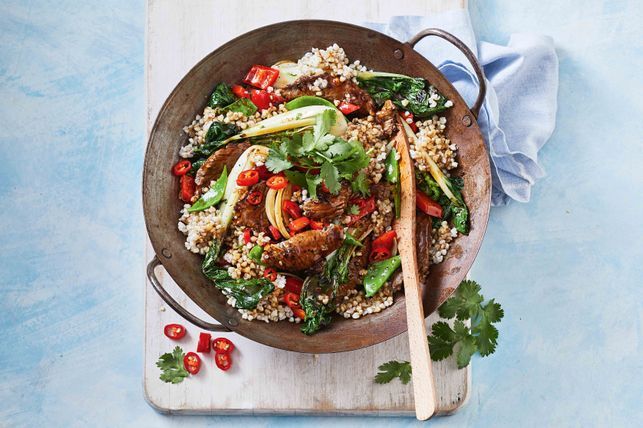 INGREDIENTS
1 cup raw buckwheat, rinsed, drained
500g beef rump steak, trimmed, thinly slice
2 teaspoons Sichuan peppercorns, crushed
2 tablespoons peanut oil
1 brown onion, cut into thin wedges
1 red capsicum, chopped
2 garlic cloves, crushed
1cm piece fresh ginger, finely grated
125g snow peas, trimmed, halved diagonally
2 baby bok choy, trimmed, quartered
1/4 cup oyster sauce
1 tablespoon soy sauce
1 tablespoon rice wine vinegar
Sliced red chilli, to serve
Fresh coriander leaves, to serve
---
METHOD

Cook buckwheat in a medium saucepan of boiling water for 15 to 20 minutes or until tender. Drain. Rinse under cold water. Drain.
Step 2Meanwhile, combine beef and peppercorns in a bowl. Heat a wok over high heat. Add 2 teaspoons oil. Swirl to coat. Add half the beef. Stir-fry for 2 to 3 minutes or until browned. Transfer to a bowl. Cover to keep warm. Repeat with another 2 teaspoons of remaining oil and remaining beef. Remove wok from heat. Carefully wipe clean.
Step 3Return wok to heat. Add remaining oil. Swirl to coat. Add onion. Stir-fry for 3 minutes or until golden. Add capsicum, garlic and ginger. Stir-fry for 2 minutes or until fragrant and starting to soften. Add snow peas and bok choy. Stir-fry for 1 minute. Add oyster sauce, soy sauce, vinegar, buckwheat, beef and any resting juices. Stir-fry for 2 to 3 minutes or until heated through. Sprinkle with chilli and coriander leaves. Serve.
THANKS
T10T