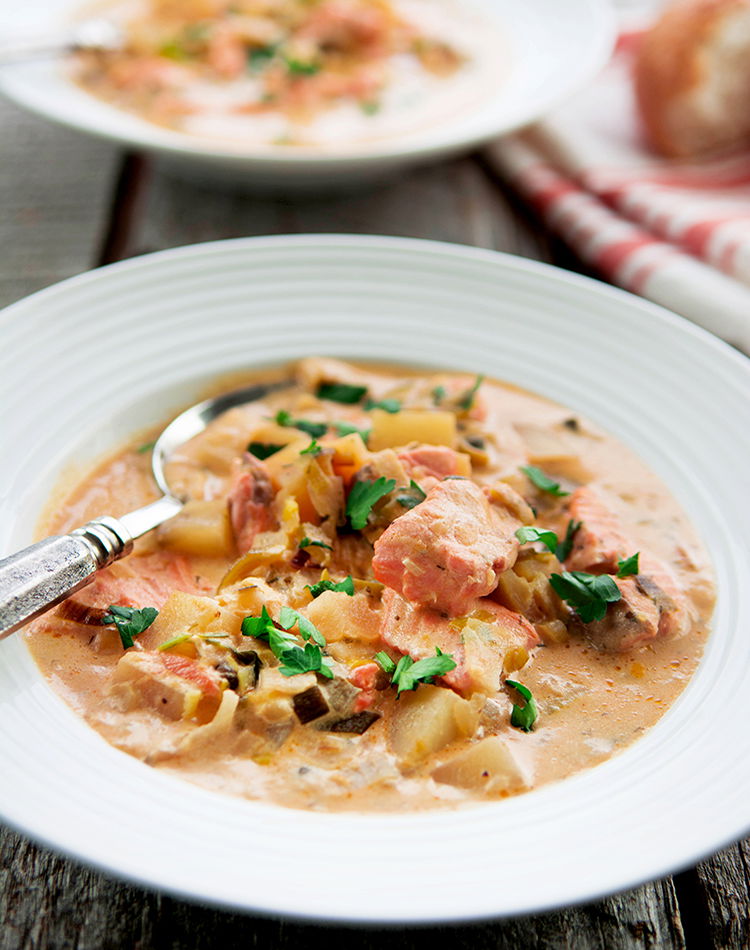 INGREDIENTS



3 Tbsp Butter

1 Leek, sliced

2 stalks Celery, sliced

4 cloves of Garlic, minced

2 medium Russet Potatoes, diced

1/2 tsp Fennel Seeds, lightly crushed

1 Bay Leaf

1 tsp dried Parsley

1 tsp dried Dill

2 Tbsp Capers with Brine

1 Tbsp Tomato Paste

4 cups Seafood/Chicken Stock

1/2 cup Cream Cheese

1 cup heavy Cream

1 lb Salmon, cut in chunks

Salt & Pepper, to taste


INSTRUCTIONS



- Melt butter in a big pot on medium high.

- Add the sliced leeks and saute for 3-4 minutes until they soften.

- Add minced garlic and saute for another minute.

- Add the sliced celery, lightly crushed fennel seeds, dried parsley, dried dill, the bay leaf, salt & pepper to taste, tomato paste the capers with brine & diced potatoes and stir it all well.

- Add the seafood stock or chicken stock and mix everything together.

- Bring the soup to a boil, then cover and lower heat to a simmer for about 15-20 minutes until the potatoes are tender.

- Once tender, use a potato masher to mash up some of the potatoes gently. You don't want them all mashed...just a few to thicken the soup.

- Add 1/2 a cup pf cream cheese and stir it well into the soup.

- Add the chunks of salmon, cover and allow them to cook for 3-5 minutes

- Add a cup of heavy cream and stir it in gently.

- Season with salt and pepper as needed.

- Lastly garnish with fresh chopped parsley and switch off the heat.
THANKS
T10T