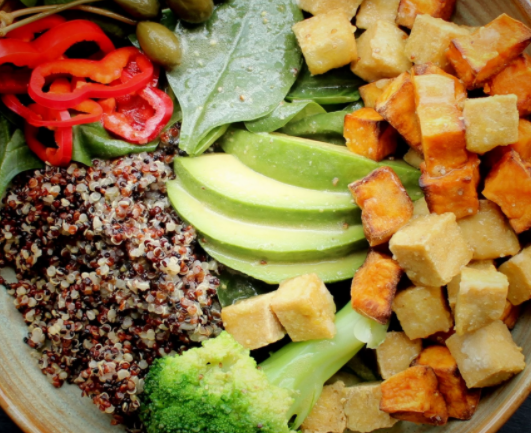 Ingredients
---
Directions
Preheat oven to 450 degrees F (230 degrees C).

Toss sweet potato with 2 tablespoons olive oil, salt, and pepper on a baking sheet; spread out in an even layer.

Roast sweet potato in the preheated oven until soft, about 20 minutes.

Bring chicken broth to a boil in a saucepan. Reduce heat to low; stir in quinoa. Cover and simmer until quinoa is tender, about 30 minutes. Place in the refrigerator to cool.

Bring a pot of generously salted water to a boil. Remove from heat; add tofu cubes. Let soak for 15 minutes. Drain and pat dry with a clean dish towel.

Mix flour, cornstarch, garlic powder, salt, and pepper together in a shallow bowl. Toss tofu cubes in flour mixture until evenly coated.

Heat 1/4 cup vegetable oil in a large skillet over medium-high heat. Cook tofu cubes in 2 batches until browned, about 20 seconds per side.

Place 3 tablespoons olive oil, lime juice, Dijon mustard, garlic powder, cumin, salt, and pepper in a jar. Seal and shake well to make dressing.

Pour dressing into a large bowl. Add sweet potato, tofu cubes, avocado, mixed greens, broccoli, red bell pepper, capers, and basil; toss to combine.

Divide quinoa among serving plates; top with sweet potato salad mixture.
thanks
By
paralee
T10T