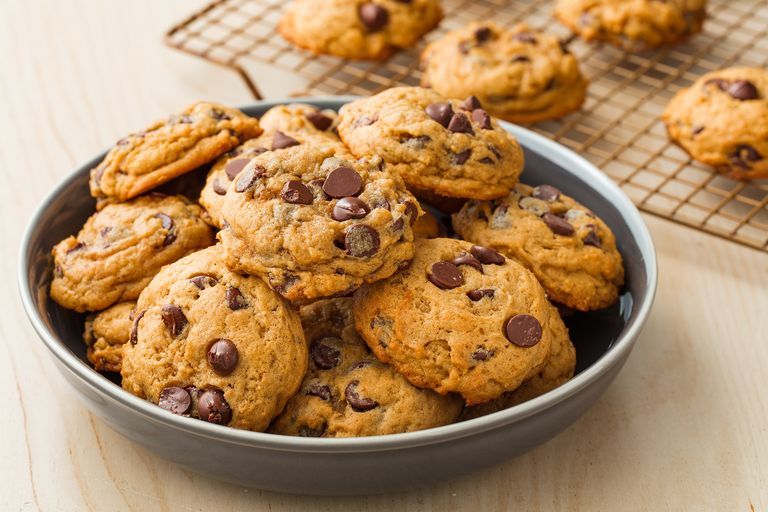 This is one of our most popular fall desserts, and it's not hard to see why. Adding pumpkin puree and pumpkin to the cookie dough results in a heavenly pillow-like cookie with major autumn vibes. Don't have pumpkin spice? !
Pro tip! Wanna make these look EXTRA chocolatey?
Reserve a handful for topping the scooped cookies right before they go in the oven! Made these?
Let us know how they went in the comment section below!
INGREDIENTS
2 1/4 c. all-purpose flour1 tsp
. baking soda1 tsp.
pumpkin pie spice1/2 tsp.
kosher salt1 c.
(2 sticks) unsalted butter,
softened3/4 c.
packed brown sugar1/2 c.
granulated sugar3/4 c
. pumpkin purée1 large egg2 tsp.
pure vanilla extract2 c
. semi-sweet chocolate chips
DIRECTIONS
Preheat oven to 375° and line two large baking sheets with parchment paper.

In a small bowl, whisk together flour, baking soda, pumpkin spice, and salt.

In a large bowl using a hand mixer, cream together butter and sugars until light and fluffy. Beat in pumpkin, egg, and vanilla extract until combined, then add flour mixture. Beat on low until no raw flour appears, then fold in chocolate chips. Refrigerate dough for 30 minutes.

Scoop 1" balls onto prepared baking sheets, 2 inches apart, and bake until puffed up and golden around edges, about 12 minutes.


thanks
T10T