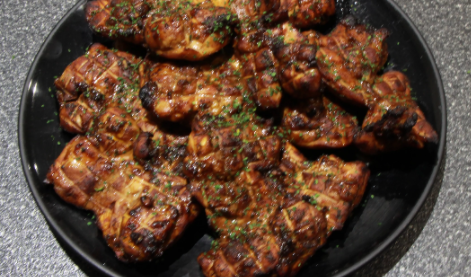 Ingredients
---
Preparation method



Whisk soy sauce, chili sauce, paprika, parsley, and pepper together in a large glass or ceramic bowl. Add chicken thighs and toss to evenly coat. Cover the bowl with plastic wrap and marinate in the refrigerator for up to 1 hour.

Preheat the oven to 450 degrees F (230 degrees C). Line a baking sheet with parchment paper and place a wire rack on the tray.

Remove chicken thighs from the marinade and shake off excess; transfer to the prepared rack. Discard the remaining marinade.

Bake in the preheated oven for 15 minutes. Turn and continue to bake until no longer pink in the centers and juices run clear, 10 to 15 minutes more. An instant-read thermometer inserted into the center should read at least 165 degrees F (74 degrees C).
THANKS
By
Aromae
T10T