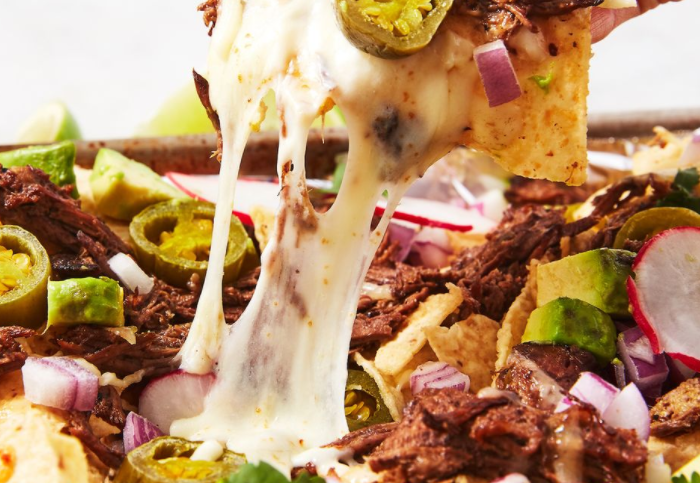 INGREDIENTS
FOR THE CHUCK ROAST:
1 2-lb. beef chuck roast
2 tsp. dried oregano
2 tsp. brown sugar
1 1/2 kosher salt
1 tsp. chili powder
1 tsp. cumin
1 tsp. garlic powder
1 tsp. vegetable oil
1 medium yellow onion, sliced
1 (12-oz.) can Mexican beer, such as Tecate
FOR THE NACHOS
1 (13-oz.) bag corn chips
3 c. Monterey Jack cheese
1 c. drained pickled jalapeños
1 avocado, cubed
2 radishes, sliced into rounds
1/4 c. loosely packed cilantro leaves
1/4 red onion, finely chopped
Lime wedges, for serving
---
DIRECTIONS
In a small bowl, whisk to combine oregano, brown sugar, salt, chili powder, cumin, and garlic powder. Rub spice mix all over roast.

Heat Instant Pot to Sauté and add vegetable oil. Sear all sides of chuck roast until golden, about 2 minutes per side. Remove roast.

Pour beer into Instant Pot, then add chuck roast back to pot. Scatter onions over pot roast and secure Instant Pot lid.

Select Pressure Cook and cook on high for 2 1/2 hours. Let pressure release naturally for 10 minutes, then quick release remaining air. Remove roast from instant pot and use two forks to shred into bite-sized pieces.

Preheat oven to 375° and line a large baking sheet with aluminum foil. Spread an even layer of chips onto the baking sheet, then top with 1/3 of the cheese, jalapeños, and shredded beef. Top with more chips, and another 1/3 of cheese, jalapeños, and beef. Finish with one more layer of chips and the remaining cheese, jalapeños, and beef. Bake until cheese is melty and chips have crisped slightly, 10 minutes.

Garnish with avocado, radishes, cilantro, and red onion. Serve with lime wedges on the side for squeezing.
thanks
by
lena