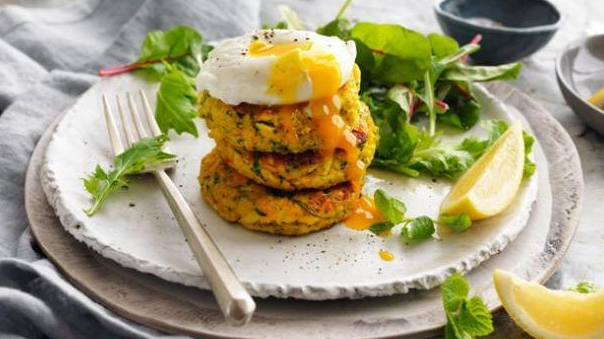 Ingredients
1 zucchini large sliced trimmed

2 cups pumpkin diced

1 carrot sliced trimmed

1 cup mint leaves fresh

3 spring onions thinly sliced

1/2 cup frozen peas thawed

1 1/2 cups panko breadcrumbs

1/2 cup self-raising flour

150 g fetta crumbed

5 eggs

1/3 cup olive oil

1 pinch salt and pepper *to taste

1 lemon cut into wedges *to serve

1 packet mixed salad *to serve
---
Method
Preheat oven to 180C. Line a baking tray with baking paper. Place zucchini in a food processor and process until finely chopped. Transfer to a clean kitchen cloth and squeeze, over a bowl or the sink, to remove excess liquid. (This prevents the fritters from being soggy). Place zucchini in a large bowl.
Add pumpkin, carrot and mint to food processor and process until finely chopped. Add to zucchini with spring onions, peas, breadcrumbs, flour and fetta. Lightly whisk 1 egg in a small bowl and add to vegetable mixture. Season. Stir until combined. Form 1/3 cups of the vegie mixture into fritters and place on a tray.

Heat half the oil in a non-stick frying pan over medium heat. Cook fritters in batches, adding more oil if needed, for 3 minutes each side or until golden. Transfer to prepared tray and place in oven to cook for 10 minutes or until cooked through.

Meanwhile, bring a medium saucepan of water to the boil. Reduce heat to low, and when bubbles subside, use a spoon to stir the water until a whirlpool forms. Break an egg into a small bowl and gently slide into whirlpool. Cook for 3 minutes or until white is cooked. Use a slotted spoon to transfer egg to a plate. Repeat with remaining eggs.

Stack fritters on serving plates. Top each with a poached egg and serve with green salad and lemon wedges.
thanks
by
lora