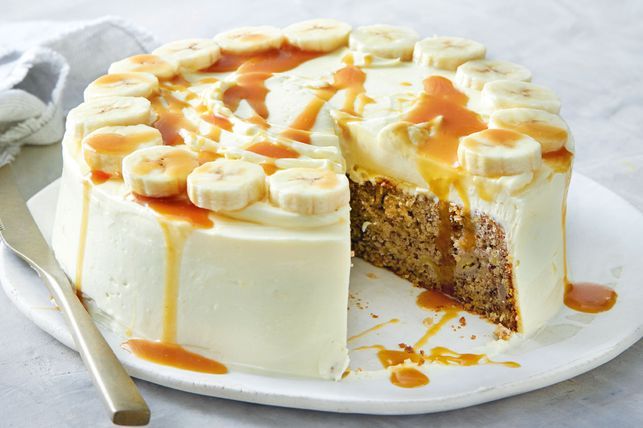 INGREDIENTS
110g unsalted butter, at room temperature, plus 1 tablespoon extra
150g (2/3 cup) raw caster sugar
2 eggs
3 medium ripe bananas, mashed
150g (1 cup) gluten-free plain flour
11/2 teaspoon gluten-free baking powder
1/2 teaspoon bicarbonate of soda
1 teaspoon ground cinnamon
100g (1 cup) almond meal
70g (1/3 cup) brown sugar
80ml (1/3 cup) pure cream
Sliced banana, to serve
CREAM CHEESE FROSTING
250g cream cheese, at room temperature
1 teaspoon finely grated lemon rind
60g (1/3 cup) pure icing sugar, sifted
1 tablespoon fresh lemon juice
---
METHOD
Step 1Preheat oven to 180°C/160°C fan forced. Line the base and side of a round 20cm cake pan.
Step 2Use electric beaters to beat the butter and caster sugar in a large bowl until pale and creamy. Add the eggs, 1 at a time, beating well after each addition. Stir in the mashed banana. Sift together the flour, baking powder, bicarbonate of soda and cinnamon. Fold the flour mixture and almond meal into the banana mixture until just combined.
Step 3Pour mixture into prepared pan and smooth surface. Bake for 40-45 minutes, covering with foil if browning too quickly, or until a skewer inserted into the centre comes out clean. Set aside for 10 minutes to cool slightly before transferring to a wire rack to cool completely.
Step 4Meanwhile, to make the caramel sauce, stir the brown sugar, cream and extra butter in small saucepan over medium heat. Bring to a gentle simmer and cook for 2-3 minutes or until thickened slightly. Transfer to a bowl and set aside to cool completely.
Step 5To make the frosting, use electric beaters to beat the cream cheese and rind in a bowl until smooth. Add the sugar and lemon juice and beat until well combined.
Step 6Spread the frosting over the cake to cover. Decorate with the banana slices and drizzle with caramel sauce.
by
Susan
thanks