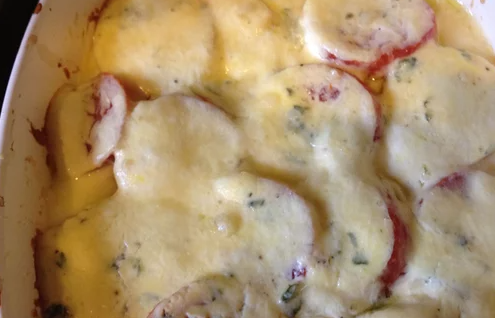 Ingredients
---
Preparation method
Melt butter in a skillet over medium-low heat and cook onion and parsley until soft, about 5 minutes.

Preheat the oven to 350 degrees F (175 degrees C). Grease a casserole dish with butter.

Spread out tomato slices in one layer in the casserole dish and season with salt. Distribute 1/2 of the onion mixture and 1/2 of the Parmesan cheese on top. Layer another row of tomato slices, season with salt, and sprinkle with remaining 1/2 of the onions. Finish with the final layer of tomatoes and season with salt.

Whisk together sour cream, eggs, and salt and spread over tomatoes. Sprinkle with remaining Parmesan cheese.

Bake in the preheated oven until set and lightly browned, about 30 minutes.
thanks
by
Larina