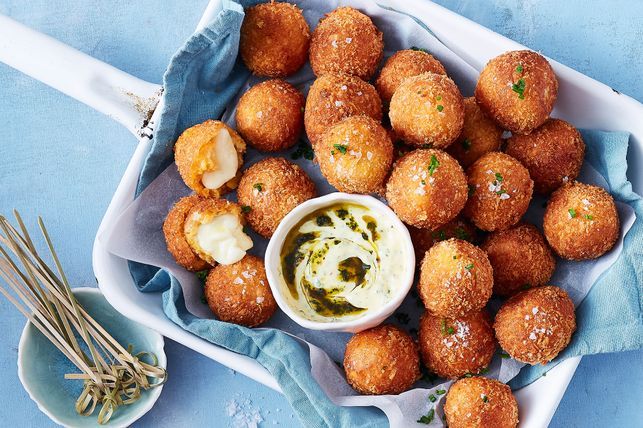 Ingredients
500g bag chopped pumpkin
1 egg, lightly beaten
2/3 cup grated tasty cheese
1 1/2 cups plain flour
2 tsp onion salt
1/2 tsp baking powder
1 1/3 cups panko breadcrumbs
24 bambini bocconcini
Vegetable oil, for shallow-frying
2 x 35g sachets chimichurri finishing drizzle
3/4 cup mayonnaise
1 tbsp lemon juice
Extra 2 eggs, lightly beaten
Chopped fresh flat-leaf parsley leaves, to garnish
---
Preparation method


Step 1
Place pumpkin in a microwave-safe bowl. Cover. Microwave on HIGH (100%) for 8 minutes or until very tender. Drain. Mash. Cool 15 minutes
Step 2
Combine mashed pumpkin, egg, cheese, flour, onion salt, baking powder and 1/3 cup breadcrumbs in a bowl. Season with pepper. Roll tablespoons of mixture around bocconcini to enclose. Place on a large plate. Refrigerate for 30 minutes.
Step 3
Pour enough oil in a large frying pan to come 3cm up side of pan. Heat over medium-high heat. Place extra egg in a shallow bowl. Place remaining breadcrumbs in a separate bowl. Coat nuggets, one at a time, in egg, then toss in breadcrumbs. Shallow-fry nuggets, in batches, turning, for 4 minutes or until golden and crisp. Drain on a tray lined with paper towel.
Step 4
Meanwhile, combine chimichurri sauce, mayonnaise and lemon juice in a small serving bowl.
Step 5
Sprinkle nuggets with parsley. Serve with creamy chimichurri.
thanks
T10T