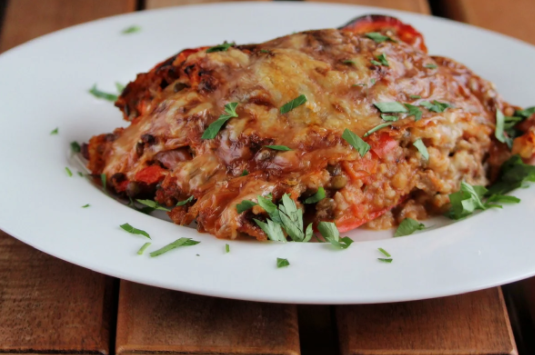 Ingredients
---
Directions
Bring water and brown rice to a boil in a saucepan. Reduce heat to medium-low, cover, and simmer until rice is tender and liquid has been absorbed, 45 to 50 minutes.

Preheat the oven to 400 degrees F (200 degrees C).

Heat a large skillet over medium heat. Add onion, garlic, and parsley; cook for 2 minutes. Add ground turkey, salt, and garlic power. Cook and stir using a wooden spoon until meat is no longer pink and slightly browned, about 5 minutes. Add tomato sauce and 1/2 cup chicken broth. Simmer over low heat for 5 minutes. Add cooked rice and stir stuffing well.

Fill each bell pepper half with stuffing and arrange neatly in a 9x13-inch baking dish. Cover each pepper with a handful of shredded Cheddar cheese. Pour remaining chicken broth into the bottom of the baking dish and cover tightly with aluminum foil.

Bake in the preheated oven for 40 minutes. Remove foil and bake until cheese is browned, about 5 minutes more. Serve right away.
THANKS
By
Emily Ott