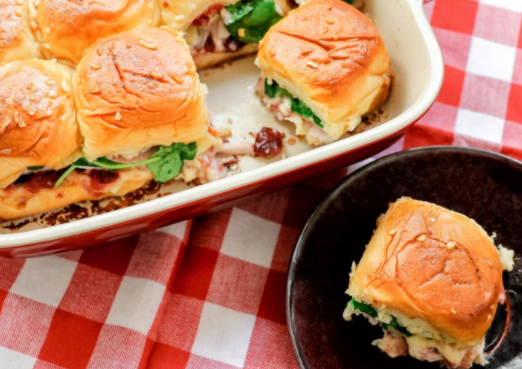 Ingredients
---
Preparation method
Preheat the oven to 350 degrees F (175 degrees C). Spray a 9x13-inch pan with cooking spray.

Whisk melted butter with Dijon mustard, dried onion, and Worcestershire in a small bowl.

Place the bottom halves of the rolls into the prepared pan. Spread mayonnaise and additional Dijon mustard to taste along the rolls. Spread cranberry sauce. Add turkey and 1/2 slice of cheese to each. Top with arugula and top halves of the rolls. Spread melted butter mixture evenly over tops. Cover the pan tightly with aluminum foil.

Bake in the preheated oven for 15 minutes. Remove from the oven, uncover, and continue to bake until cheese is melted, 10 to 15 minutes.
thanks
by
Ana Maria