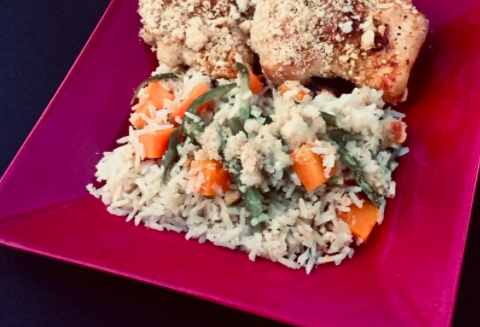 Ingredients
---
Preparation method



Preheat the oven to 350 degrees F (175 degrees C).

Pat chicken thighs dry with a paper towel, and season both sides with seasoned salt.

Heat olive oil in a 12-inch oven-proof nonstick skillet over medium heat until it shimmers. Brown chicken thighs lightly in the hot oil, about 3 minutes. Turn, and sprinkle smoked paprika evenly on top. Continue cooking until chicken thighs are light brown, about 3 minutes. Chicken will not be cooked through. Transfer chicken to a plate and keep warm.

Cook chopped onion in the same skillet until soft and translucent, about 3 minutes. Add rice, stirring and scraping the bottom of the skillet, until the rice picks up a little color, about 4 minutes. Stir in butternut squash cubes and frozen green beans and season with herbes de Provence. Pour in chicken broth, and set browned chicken thighs on top.

Bake in the preheated oven for 30 minutes.

Place Caesar croutons in the bowl of a food processor or blender and pulse several times, until the croutons are reduced to coarse crumbs.

Sprinkle crumbs over chicken, rice, and vegetables, and continue to bake until chicken is done and the butternut squash and rice are tender, 15 to 20 minutes more. An instant-read thermometer inserted into the center should read at least 165 degrees F (74 degrees C).
THANKS
By
Bibi
T10T