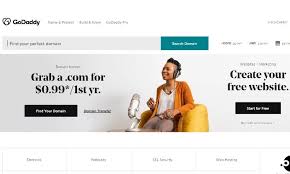 Who is Godaddy company?
GoDaddy is one of the most popular hosting providers
domains and information technology in the world, and
GoDaddy is characterized by its wide offerings of
Services that suit different customer needs, along with
ease Its use and the availability of technical support
services around the clock. But each company has its own advantages and disadvantages.


This is what we will discuss in this review, where we will
take a look at the advantages GoDaddy hosting
disadvantages, and we will talk about the hosting packages offered by GoDaddy



About GoDaddy


GoDaddy is a leading domain and hosting services company And register online.
Founded in 1997 in the United States The American
company provides its services to individuals and
companies through a wide range of products and services.


Godaddy products include, but are not limited to,
registrations on Internet, web hosting, email services
and commerce solutions Electronic design tools, e-marketing, security protection, and others A lot.
GoDaddy has more than 20 million customers
worldwide and is one of the largest hosting service providers in the world.


The company is characterized by its reliability, security,
good technical support, and excellent services At
competitive prices, which made it a popular choice for
many individuals and small and medium businesses.
The most important services provided by Godaddy


GoDaddy is the largest domain name registrar in the
world by a significant margin compared to its closest
competitors, according to data from the domain regulator ICANN.

In addition, Godaddy provides many different hosting services, such as:

Shared hosting services.

WordPress hosting services.

VPS Hosting Services.

Reseller Hosting hosting services.

Dedicated Server Hosting.


GoDaddy provides managed VPS virtual server hosting
service on demand, and provides many additional tools
for reseller hosting clients "hosting distributors" that
guarantee customers easy billing management,
technical support, and payment options for customers,
and other companies provide such services as Host
Gateway hosting, Bluehost hosting, and InterServer hosting.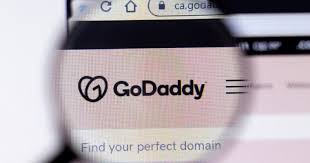 Godaddy features


GoDaddy has many advantages that make it a popular
choice for many individuals and companies, the most prominent of which are:

Provide various hosting packages: GoDaddy offers a wide range of hosting packages, including shared hosting, virtual private servers, managed private servers, and cloud servers, allowing customers to choose from packages that suit their specific needs.

Domain Registration: Customers can purchase domains directly from GoDaddy, and the company also offers tools for easy and efficient domain management.

Technical Support Service: GoDaddy provides high-quality technical support around the clock, and customers can contact the support team through phone, email, or live chat.

Ease of use: GoDaddy has a user-friendly interface and clear user design, which makes it easy for users to manage their sites and applications.

Availability of security services: Availability of multiple security options including SSL certificates, DDoS protection, automated backups, and protection from spam and viruses.

Cross-Platform Compatibility: GoDaddy services are compatible with different platforms such as WordPress, Joomla, Drupal, etc., making it suitable for many different needs of customers.

Overall, GoDaddy has several features that make it a good choice for many users.





Godaddy flaws


Despite the advantages of GoDaddy mentioned in the
previous paragraph, there are some disadvantages
that users should be aware of before subscribing to its
services, and the most prominent of these defects are:



High Renewal Prices: Users can get discounts and promotions upon initial registration, however, renewal prices are much higher, which requires attention and advance planning.


Annoying Ads: Annoying ads are displayed on the dashboard of GoDaddy accounts, which can disrupt the user experience.


Limited services: Some services may be limited, such as the resources allocated for hosting websites, which may affect the performance of the site, especially in the case of sites that require more resources.


Difficulty canceling: Some users complain that it is difficult to cancel GoDaddy services, as it requires additional procedures and speaking with the technical support team.


Policy Restrictions: Use of GoDaddy requires compliance with several policies and terms that may be somewhat limited, such as email and file size restrictions.
Cheap GoDaddy hosting and plentiful resources



GoDaddy Economy hosting allows hosting only one
website with 100 GB storage space, unlimited
bandwidth data transfer rate, 10 databases, with the
ability to create 50 FTP accounts, and 25 sub-domains.

GoDaddy also provides higher hosting packages that
allow you to host more than one website on the same
package, with unlimited storage space, a large number
of databases and FTP accounts, with a variety of protection certificates in the higher package.

Godaddy hosting package prices start at $2.99 per
month when using a technical note offer, which makes
the company among the cheapest hosting companies.
Based on what was mentioned in this article, it can be
said that Godaddy hosting is one of the best An
excellent choice for individuals and small and medium-
sized businesses who are looking for High quality
hosting services at affordable prices, they offer a wide range Services that suit different customer
requirements and are characterized by ease of use and high-quality technical support around the clock.


Although there are some small flaws in Godaddy, they
do not affect significantly on the quality of service you provide.
Hence, if you are looking for a provider With high-quality hosting services and a comfortable user experience, GoDaddy hosting is a good option worth trying.


Thanks
by
Ahmed Ali