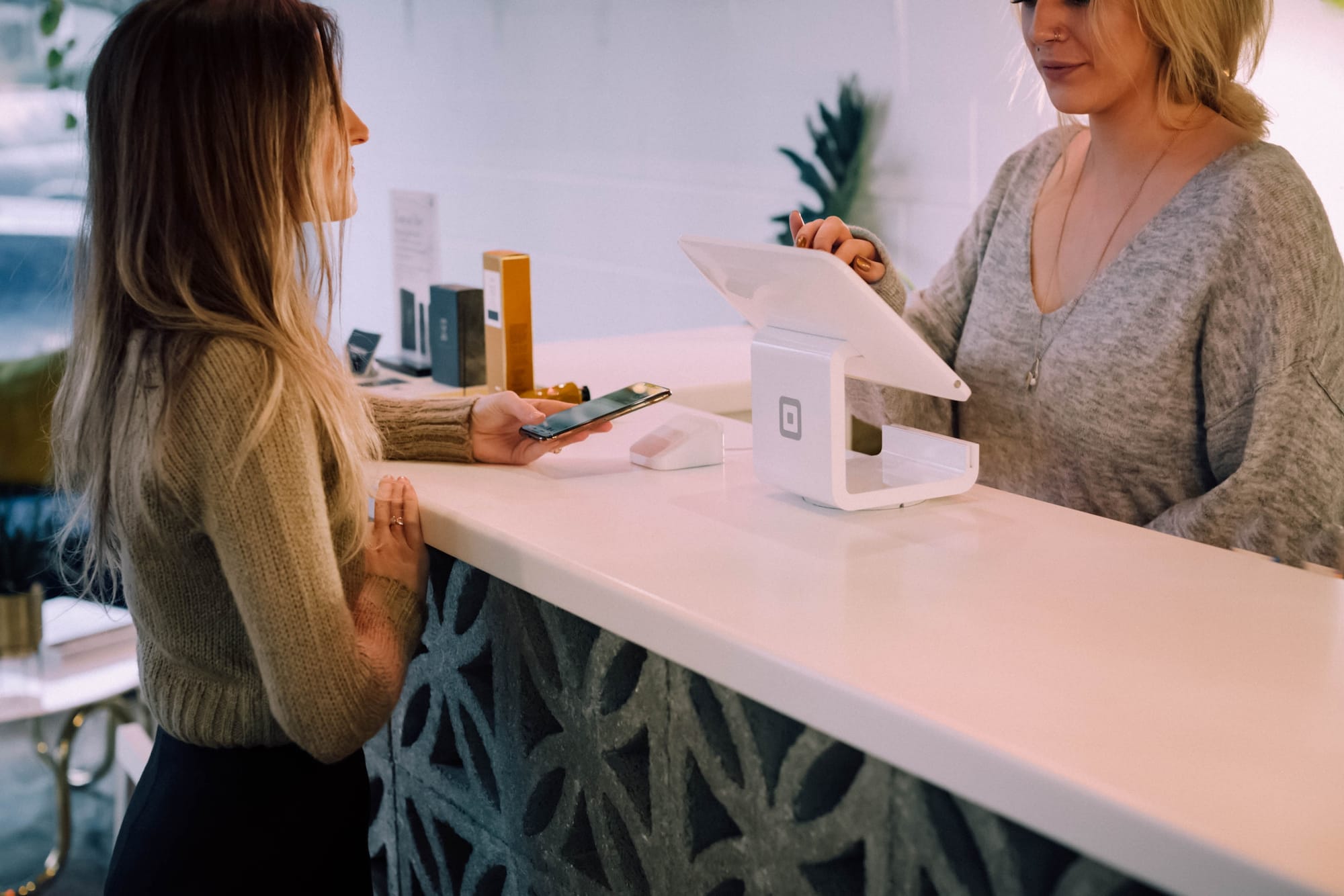 In this digital age, more cost-effective tools are added to
the arsenal of marketing professionals. So, to stay
ahead of the competition, you should always be up to
date with the latest trends.
Effective online marketing campaigns bring in more customers thus growing your business.
Knowing the basics of small business marketing on different channels will help you boost brand awareness, generate more leads, increase revenue, and much more.


Even if you have little or no idea of how to do it, taking your business online can be a crucial step. And Renderforest can help you with that.


In this article, you'll learn why your business needs a website, the importance of social media and visuals, and how to get started with your small business marketing.


Build Your Small Business Website

Small Business Marketing on Social Media

More Small Business Marketing Tips

Build Your Business Website
Nowadays, people are more likely to search for information about a company online, than to make a phone call. So, if you still don't have a website for your small business, it's the best time to get one. Your competitors are probably already online, or on their way to getting a website.


The benefits of having a website are huge. First of all, it gives you credibility and an opportunity to discover new markets. By visiting your website, people will find everything about your business, your contact details, all products and services, the team behind your business, and so much more.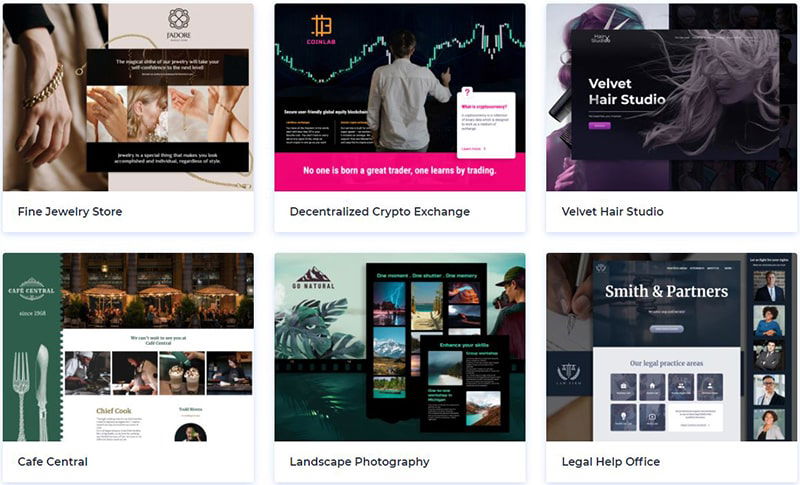 You might think that running a website is expensive and time-consuming. But with the right tools, you can get your business website up and running in no time.


Renderforest provides you with an easy-to-use website builder with advanced features. You don't need technical skills and knowledge to get started. No software installation, no coding. Select a ready-made website template and customize it based on your needs.
Find a suitable template based on your business industry or your purpose. From one-pagers to multi-functional websites, portfolios, and landing pages, we have everything covered. You can also build your own website from scratch using different elements and sections.


Even though your online presence is not limited to having a website, it's still a great way to showcase your products and services.
---
Small Business Marketing on Social Media
On a daily basis, millions of people are active on social media. They create content, communicate with their friends, and most importantly, follow their favorite brands and companies. What can you get from social media? Traffic, leads, sales, brand awareness, credibility, and so much more.
You only need the right social media strategy to get started.Even though social media provides great opportunities for business promotion, the competition is really tough.
To stand out, you have to share creative, authentic, and high-quality content.The good news is that you don't have to be a graphic designer or a professional video creator to have high-quality social media posts.
With Renderforest Video Maker and Graphic Design tool, you can get everything within a couple of minutes. Design graphics for Instagram, Facebook, and YouTube with ready-made templates. Available in different sizes, they can be customized for social media posts, Stories, and covers. All the designs come in packs, so you can keep your posts consistent by using the different layouts of the same style.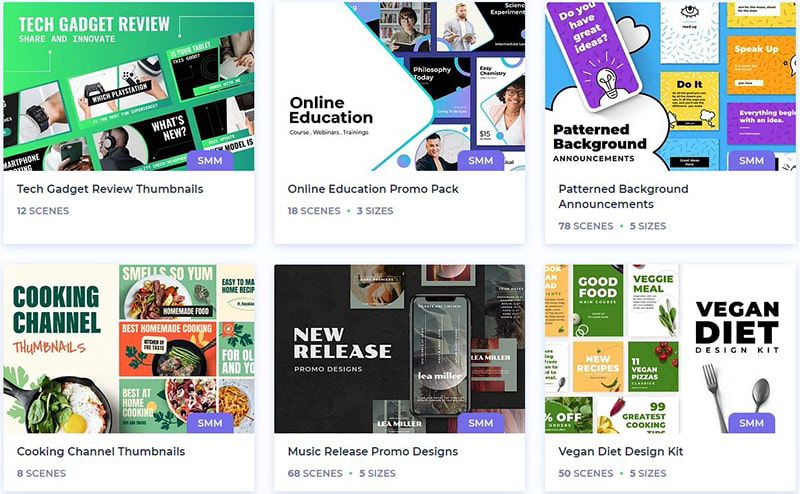 Share your brand story and values through social videos. Storytelling has become an invaluable tool for business marketing. So, don't miss your chance to stand out through professional videos․


Create square, vertical, and horizontal videos for social media right in your browser. A wide variety of scenes and typography is available for easy and fast editing.


Enhance your social media presence through visuals. The best part is that it costs nothing if you don't use paid ads, of course.


So, go ahead and create your company profiles, if you don't already have them. Create, share, and attract new followers.
---
More Small Business Marketing Tips
It takes courage to take your offline business online but the results can exceed your expectations. Especially when you mix your online and offline promotion strategies.
Here are 6 small business marketing tips that will help you get started with your online marketing, optimize your campaigns, and get the highest ROI.
Know Your Audience
You might have heard this a million times. But let's repeat it one more time. In order to offer the best customer service and deliver the best products, you should know your target audience.
When it comes to mixing the online and offline, here you have an advantage because you can analyze not only your offline leads and customers but also your online audience.


On one hand, you have the offline visitors you're in direct contact with. You can analyze their behavior, preferences, the approximate budget they're willing to spend, how they make a buying decision, and other useful information. This will help you target a specific segment online and bring more similar customers.
On the other hand, you have your online audience which is wider than your offline audience. When you go online, you find more segments that might be interested in your business. This will help you diversify your customer base.


By combining the social media data, you'll have the best possible picture of what your audience is looking for and what makes them choose you.
Update Your Marketing Plan
If you're new to online marketing, then you've definitely noticed how different it is from offline. Here, you'll need a different approach and a new set of strategies. While online marketing heavily relies on the Internet, offline marketing is based on completely different media like radio or television. So, combining these two can be very effective.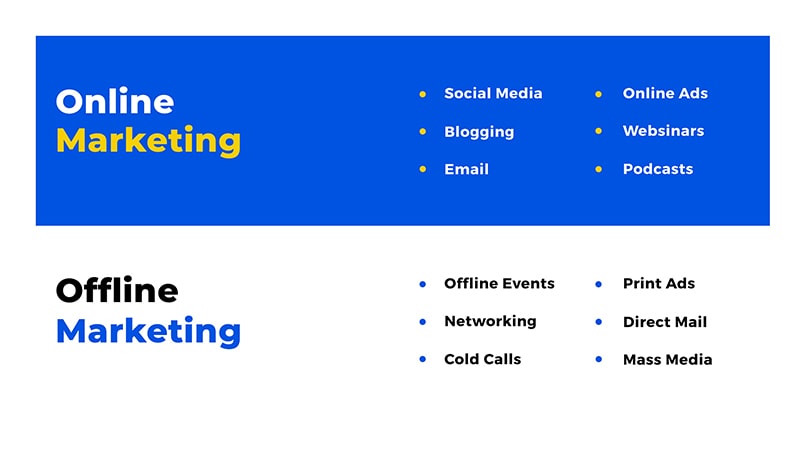 This is why updating your marketing plan is crucial. You need to optimize your offline campaigns and add new online strategies to promote your business and bring in more qualified leads.


Use Free Marketing Tools
When it comes to budget, online marketing is more cost-effective than offline marketing. The online space offers many free tools that will help you promote your business. And even if you use paid tools, the ROI is still high. Below are some lists of free and paid tools that can be used for online marketing campaigns:
Choose the right tools that can help you create, measure, and optimize your online campaigns.
Create Different Types of Content
The Internet is flooded with different types of content. But still, there are more options to get noticed online compared to offline.
Depending on your goals and the overall marketing strategy, you can create content that serves its purpose. Whether it's lead generation or customer retention, you can find the right type of content to use.
Get a New Logo and Other Brand Assets
Online marketing gives your business exposure to a wider audience, so it's your chance to appear in the best light.
Thinking about rebranding your business? Sometimes, rebranding is really necessary, but not in all cases.
Consider it if you have new values, or when you're trying to position your business differently in the market.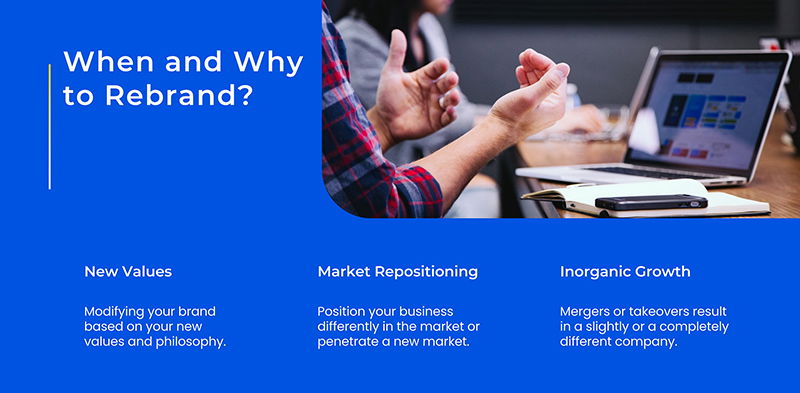 If you don't want to fully rebrand, modify your logo, or create a new logo, and update your brand assets.
No matter if you're online or offline, keep your brand consistent on all platforms and mediums.
Experiment and Invest in What Works Best
Practice makes perfect. This is why all your strategies should be tested and analyzed to maximize their effectiveness. Try out new strategies then recreate the successful ones with a higher budget. For instance, a SaaS business would have to track subscription metrics to understand how its strategies are working out.
Keep your experiments simple, set your goals, analyze the data, and make the right decisions. These business promotion tips will help you get started with your marketing campaigns. There are endless ways to successfully promote your business, both online and offline. Find strategies that work, experiment, and grow your business.
---
To Sum Up
Now, you're definitely armed with the right tools and strategies to start your small business promotion. Build your website, share your business on social media, and follow our tips for effective online campaigns.
Combining your offline and online marketing strategies can help you grow your small business if done correctly. So, don't hesitate to research, experiment, and invest in the best-performing campaigns.
Let Renderforest help you in this journey! Explore our 5-in-1 online platform and create the necessary marketing visuals and branding materials online.


Article by
Emma Bojukyan