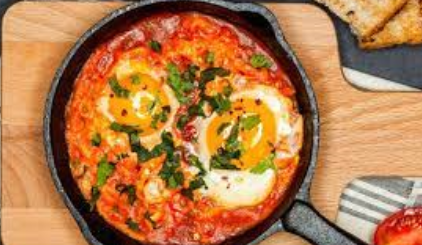 Ingredients
---
Directions
Heat the olive oil in a skillet over medium heat. Stir in the onion, bell peppers, and garlic; cook and stir until the vegetables have softened and the onion has turned translucent, about 5 minutes.

Combine the tomatoes, cumin, paprika, salt, and chile pepper into a bowl and mix briefly. Pour the tomato mixture into the skillet, and stir to combine.

Simmer, uncovered, until the tomato juices have cooked off, about 10 minutes. Make four indentations in the tomato mixture for the eggs. Crack the eggs into the indentations. Cover the skillet and let the eggs cook until they're firm but not dry, about 5 minutes.
THANKS
By
Ben
T10T