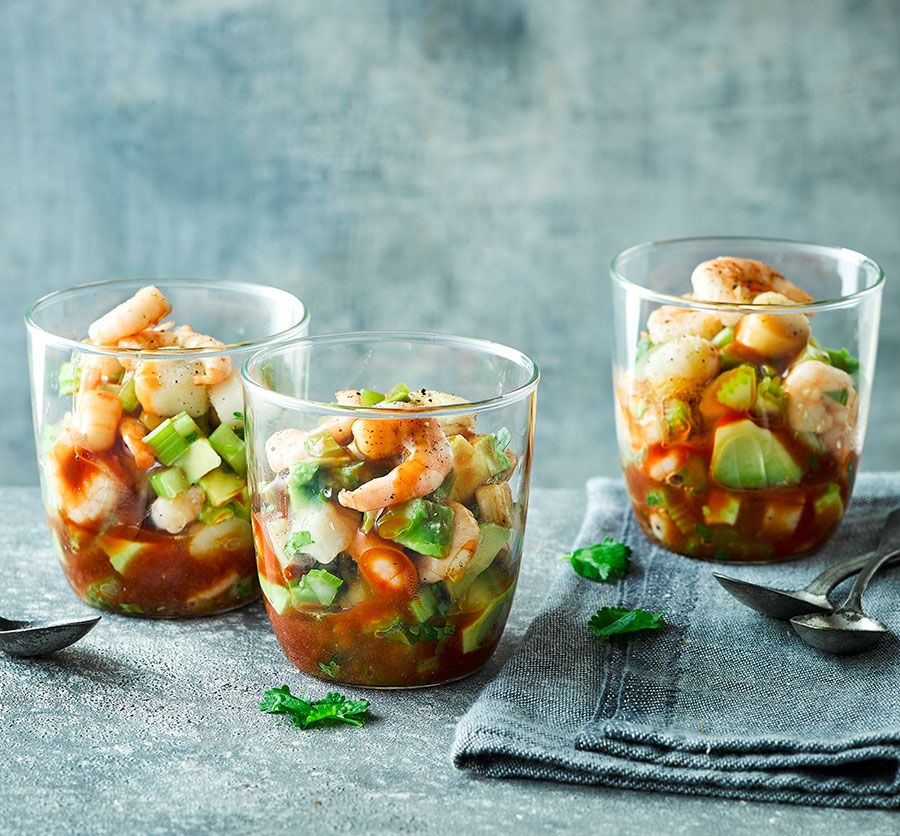 INGREDIENTS


2 tbsp oil

1 garlic clove, peeled and crushed

180g small scallops, or large scallops, cut into slices

250g raw peeled prawns (see tip)

200ml fresh tomato juice

1-2 tbsp Lee Kum Kee Premium Oyster Sauce

1 tsp Lee Kum Kee Premium Light Soy Sauce

1 tsp Lee Kum Kee Seasoned Rice Vinegar

½ lemon, juiced

1 celery stick, finely chopped

1 small avocado, cut into cubes

handful of coriander, chopped
---
DIRECTIONS
Heat 1 tbsp oil in a wok, then turn up the heat and add the garlic and scallops. Stir-fry for 30 seconds to 1 min until the scallops are just cooked. Tip onto a plate. Heat the remaining oil and stir-fry the prawns for 1-2 mins over a high heat until they turn pink, then season with some black pepper. Tip onto the plate with the scallops. Allow the seafood to cool completely.

To make the bloody mary sauce, mix the tomato juice with the Premium Oyster Sauce (use 2 tbsp for a stronger flavour), Premium Light Soy Sauce, Seasoned Rice Vinegar and lemon juice. Taste and adjust the flavour with more of the ingredients if you want an even stronger flavour.

When the seafood is cool, divide it between four glasses or small bowls, keeping 4 prawns for garnish. Add the celery and avocado to each glass and pour over the tomato mixture. Leave to marinade for 10 mins, or cover and chill for up to 4 hrs. Garnish each glass with the reserved prawns and some coriander.
BY
Katie