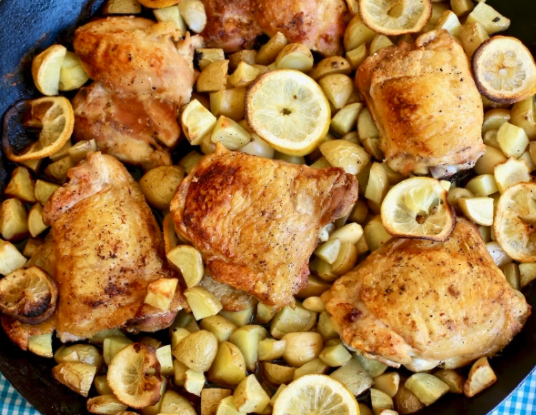 Ingredients
---
Preparation method



Preheat the oven to 425 degrees F (220 degrees C).

Season chicken thighs with salt and pepper on all sides.

Heat olive oil in a roasting pan set over two burners at medium-high heat. Sear chicken skin-side down in the hot oil for 5 to 7 minutes. Turn chicken thighs and add potatoes. Mix potatoes with oil. Add lemon slices and garlic cloves and toss everything together so potatoes and garlic are well-coated in olive oil.

Transfer chicken to the oven and cook until chicken is cooked through and the potatoes are tender, about 30 minutes. Remove from the oven and stir in the parsley before serving.
THANKS
By
chpmnk
T10T