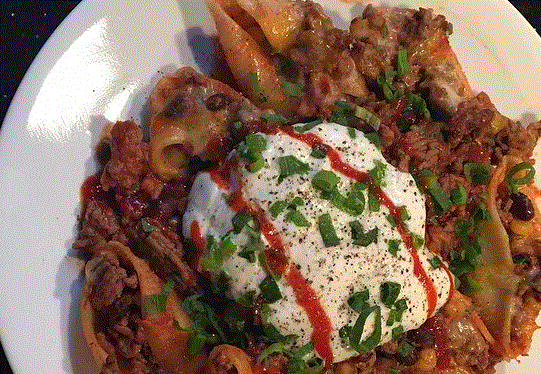 Ingredients
---
Directions
Preheat oven to 375 degrees F (190 degrees C). Spray a baking dish with cooking spray.
Bring a large pot of lightly salted water to a boil. Cook pasta shells in the boiling water, stirring occasionally until tender yet firm to the bite, 8 to 10 minutes. Drain.
Heat a large skillet over medium-high heat. Cook and stir beef in the hot skillet until browned and crumbly, 5 to 7 minutes; drain and discard grease. Stir salsa, tomato sauce, corn, and olives into ground beef.
Stuff shells with ground beef mixture; arrange in a single layer in the prepared baking dish. Sprinkle Cheddar cheese over stuffed shells.
Bake in the preheated oven until cheese is melted, about 20 minutes. Serve shells with sour cream.
thanks
by
Shay
T10T