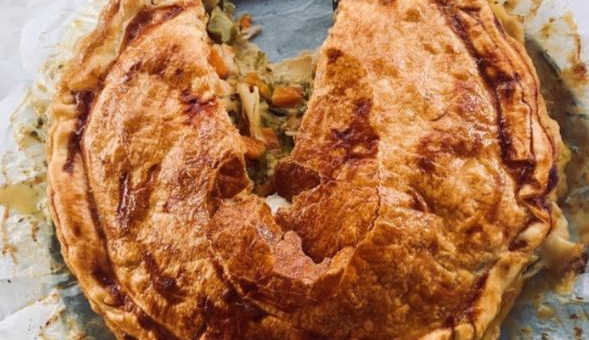 Ingredients
1 sweet potato, finely diced

2 cloves garlic, crushed

1 carrot, finely diced

Olive oil, for frying

1 zucchini, finely diced

1 bunch of broccolini, finely chopped

1 chicken breast, finely chopped

Massel* Chicken Style Liquid Stock

100ml thickened cream

2 tbsp cornflour

2 sheets puff pastry, defrosted

1 egg
---
Method
Preheat oven to 180 degrees. Line a round baking dish with baking paper. Set aside.

Place a pan on medium heat and cook the olive oil, sweet potato, carrot and garlic. Let them brown a little before adding the zucchini and broccolini.

When the vegetables have browned slightly, place them in a separate dish. Using the same pan, cook the chicken, Once cooked, add the vegetables back to the pan.

Pour the stock and cream into the pan with the chicken and veg.

Add cornflour and stir. Let it thicken. Once it is thickened, take the pan off the heat.

Place your first piece of pastry onto a sheet of baking paper to create a base for the pie.

Pour the filling from the pan into the dish then top with the second sheet of pastry.

Whisk the egg in a separate bowl and carefully brush to coat the pastry to create a lovely golden and crisp finish.

Cook for 30 minutes and serve warm.
thanks
by
ton