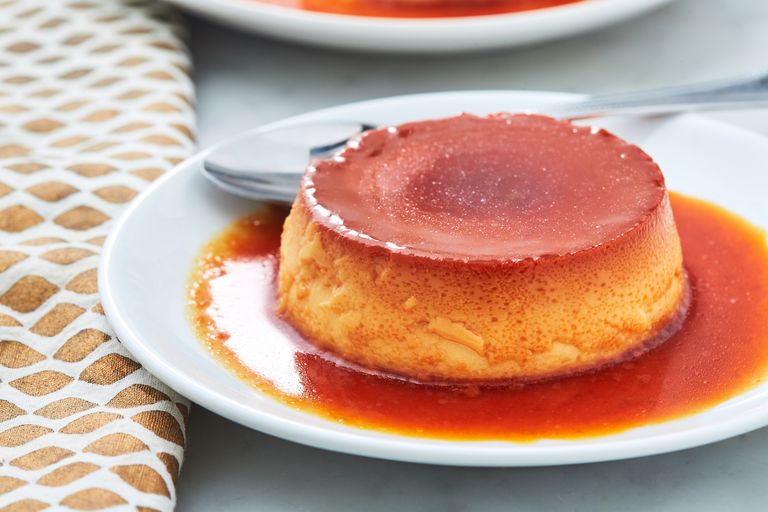 INGREDIENTS
1 3/4 c. heavy cream
1 c. whole milk
1 tsp. pure vanilla extract
Pinch kosher salt
1 1/2 c. granulated sugar,
divided
large eggs3
large egg yolks 3
DIRECTIONS
Preheat oven to 350°. In a large bowl or measuring cup, whisk to combine cream, milk, vanilla, and salt.

In a medium saucepan over medium-high heat, combine 1 cup sugar with 1/3 cup water. Cook, gently swirling the pot but not stirring, until mixture turns a deep golden color, 8 to 9 minutes. (Tip: use a pastry brush dipped in water to clean the inner sides of the pan and avoid burning while making your caramel.) Working quickly, divide caramel into seven 6-ounce ramekins. Gently lift and tilt ramekins to coat the inside with caramel. Place ramekins in a large baking dish.

Whisk eggs, egg yolks, and remaining ½ cup sugar together in a large bowl. Gently mix in cream mixture until just combined. Divide mixture evenly between ramekins, about ½ cup each.

Pour enough hot water into baking dish to come halfway to top of ramekins. Bake until just set and flan slightly jiggles, 45 to 50 minutes. Transfer ramekins to a cooling rack and let cool completely, about 2 hours. Cover with plastic wrap and chill in the refrigerator until ready to serve.

When ready to serve, use a small knife or offset spatula to carefully loosen the edges of the flan. If refrigerated, warm in microwave in 10 second increments for 30 seconds. Turn flan over onto a plate, shake gently to release flan and remove ramekin.
THANKS
T10T