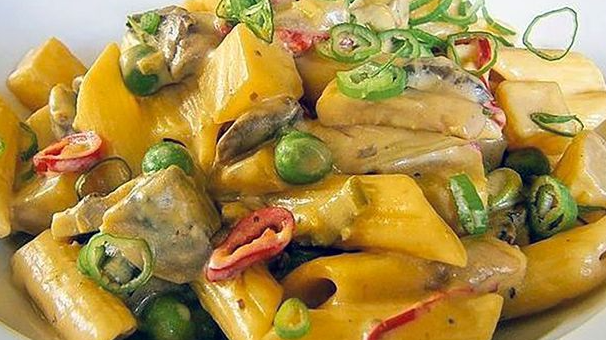 Ingredients
1 tbs sunflower oil

1/2 kohlrabi cubed

5 button mushrooms cubed

1 stalk spring onion

1 garlic clove finley chopped

1 red chilli finely sliced

10g dried forest mushrooms soaked in water

1 cup frozen peas

3 1/2 tbs tahini

1/4 cup soy cream

200ml soy milk

3 tbs nutritional yeast flakes

1 tbs potato starch mixed with 1 tbs warm water

1/2 tsp nutmeg

1 tsp sea salt

1 tsp black cracked pepper *to taste

250g penne pasta
---
Method
Heat the sunflower oil in a large fry pan over medium high. Add the kohlrabi and season with salt and pepper. Fry for 3-5 minutes, stirring regularly.

Finely slice the spring onion. Add to the fry pan with button mushrooms and chilli. Stir well.

Deglaze the pan with the soaked forest mushrooms. Add the peas, soya cream, soy milk, tahini and yeast flakes and stir well to combine. Turn the heat down to medium. When it starts to bubble, add the potato starch mix and whisk well.

Turn the heat down to a simmer. Season again with sea salt, black pepper and nutmeg. Leave to simmer for 5 minutes.

After 5 minutes, remove from heat and cover with the lid. Cook pasta as per package directions. Let the mixture rest until your pasta is cooked. When the pasta is ready, drain and add it to the sauce. Stir well to combine.
thanks
by
Narian